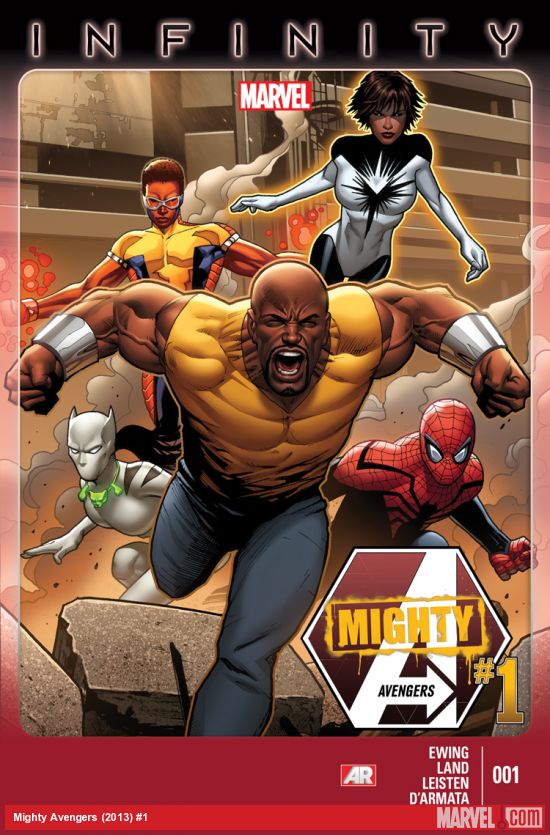 MIGHTY AVENGERS (2013) #1
Published: September 11, 2013 Price: $3.99
Rating: Rated T+
Writer:

Al Ewing


Artist:

Greg Land


Inker: Jay Leisten
Colorist: Frank D'Armata
The Avengers are light-years away in space, contending with the Builders! Thanos' marauders ransack the Earth, doing as they please! Who will stand in defense of mankind?Luke Cage! The Superior Spider-Man! Spectrum! The White Tiger! Power Man! And a mysterious figure in an ill-fitting Spider-Man Halloween costume! These unlikely heroes must assemble when no one else can—against the unrelenting attack of Proxima Midnight!
---
Wow. If you would have told me that this would be in my top 5 Marvel books last week, I would have laughed at you. This book is so much fun! New comer to the Marvel bull-pen, Al Ewing (Judge Dredd) knocks this debut issue out of the park. If you are reading the other books that have INFINITY justified across the top of the cover, you owe it to yourself to cleanse your all-encompassing Marvel universe fandom palette with this book.

If you were a fan of Bendis'
New Avengers
, then this is right up your alley, as it is written in a very similar style. In fact, Ewing explains how much he loved that series in issue's Afterward (and I highly suggest reading that as well).

Additionally, Greg Land's (Iron Man -as in the current Secret Origins of Tony Stark) art matches the story telling perfectly. His proportions are spot-on and Leisten and D'Armata's ink and color make each panel clean, smooth, and sharp: just the way I like my tights and capes books. Oh, and Land actually is in the running for my vote as the next Spider-Man artist.

Trent's Grading
Story: A
Art: A
Overall Grade: A

GO BUY THIS BOOK!