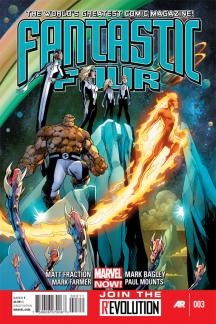 FANTASTIC FOUR (2012) #3
A new year on a new world! The Richards family rings in 365 days of adventure on a brand new planet!Someone's having second thoughts. Really? Already?How long can Reed keep his secret? How long can anything be kept a secret when you're travelling through time & space with your family…?
---
Do you like space? How about comedy? Are you attracted to great story telling via well written dialogue and MIND-BLOWINGLY BEAUTIFUL ART? -- Then you should probably be reading this book. There is just something... so... heart warming and fun about a family traveling on adventures through space. Sure dad has a secret that he's not telling anyone, and it's going to eventually make everyone cry... But it's only going to get better from here.
Pick it up in trade.
Read this if you like Doctor Who, Lost In Space, or Farscape.
Story: 3.5/4 Pews!
Art: 4/4 Pews!